As seen in Retail IT Insights magazine June 2, 2022
FuturePay CEO Tim Harris' latest article talks to e-Commerce retailers about how to retain customers and add value to the relationship.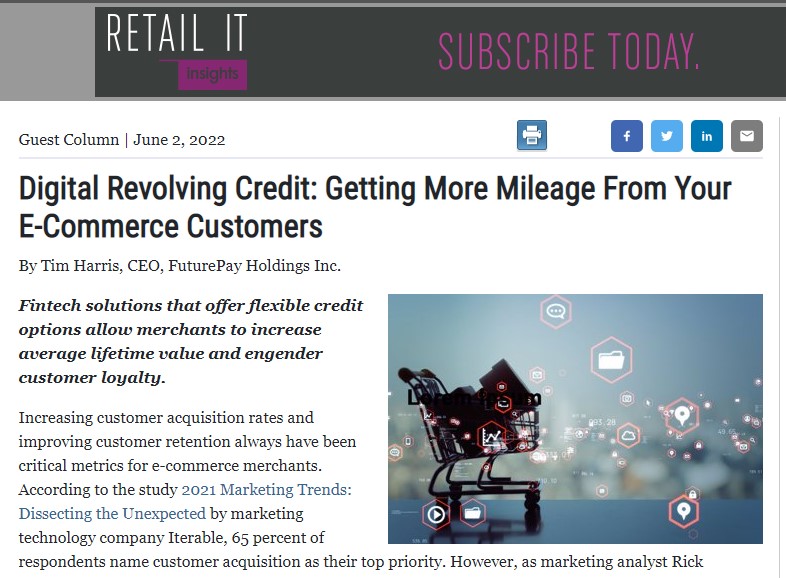 Increasing customer acquisition rates and improving customer retention always have been critical metrics for e-commerce merchants. According to the study 2021 Marketing Trends: Dissecting the Unexpected by marketing technology company Iterable, 65 percent of respondents name customer acquisition as their top priority. However, as marketing analyst Rick Silvestrini from business investment firm Norwest notes in his article about customer acquisition costs, "The challenge today is that everything has become much more expensive." This refers specifically to the rising costs of digital marketing initiatives that e-merchants are now nearly obligated to participate in, including paid marketing campaigns on multiple platforms like Google, TikTok, Facebook, etc.
Other reports, such as "The Ultimate Guide to Customer Acquisition for 2022" by content marketing strategist Allie Decker, cite that customer acquisition costs (CAC) have risen by 60 percent over the last six years. As these expenses spike, merchants need technology partners who are aligned with their desire to generate more business from their existing customer bases. Financing solutions in particular should be able to support the e-merchant's ability to retain and expand customer relationships, as well as to generate new ones.
Leveraging Digital Revolving Credit To Enhance LTV
The right e-commerce financing solution can help online retailers strengthen customer retention by increasing average customer lifetime value (LTV) and customer loyalty. Typical Buy Now Pay Later (BNPL) solutions don't fit this model, since in many ways they are not conducive to customer retention. For example, BNPL works by offering buyers short-term loans with a fixed number of installment payments (typically four), after which time the account—and the customer relationship—closes.
Yet there's a newly emerging online payment solution that delivers the same instant approval and convenience for customers while providing far more advantages to help merchants get the most out of their customer transactions. Digital Revolving Credit (DRC) offers the same instant account application and payment capabilities as BNPL, yet it offers a long-term cardless revolving line of credit that the purchaser can keep open indefinitely, assuming they remain in good standing. An added plus: since DRC solutions offer long-term financing to consumers, the credit underwriting process is more rigorous than what is required by BNPL short-term loan providers. This logically leads to fewer defaults and fewer customers being offered financing who may have difficulty keeping up with their payments. The latter has recently been expressed by regulators as a major concern with BNPL programs.
The Benefits of Digital Revolving Credit Include:
Enhanced LTV: The ability for the shopper to apply once and make follow-on purchases with their credit line again and again enables repeat business and long-term customer relationships. This "life cycle lending" approach leads to increased customer LTV.
Reduced cart abandonment: Not only does Digital Revolving Credit foster higher LTV, but it also has been shown to lower cart abandonment rates, since it provides a convenient, reusable, and flexible financing option directly on the merchant's shopping cart. Unlike BNPL loan offerings with rigid installment payments, DRC customers can structure a payment schedule that meets their budgets. The open-ended revolving line of credit accommodates each customer's individual financial needs much more flexibly than the fixed payment installment loans offered by BNPL vendors.
Repeat and subscription business: The BNPL model is geared to "one-off" purchases of products that are needed infrequently (mattresses, bicycles, etc.). DRC, on the other hand, is ideal for purchases of items such as cosmetics, pet supplies, and auto accessories which lend themselves to repeat, or even subscription-based, purchases. This helps build recurring revenue for merchants and fosters customer loyalty.
E-commerce merchants have a choice of which financing solutions to place on their most valuable website real estate – the shopping cart. The strategic choices they make should be based on the types of products they sell, the needs of their customers, and what is best for the long-term growth of their businesses. Digital Revolving Credit offers a merchant-friendly solution, enhances customer LTV, and delivers a convenient and flexible financing option that will keep customers coming back for more.