FuturePay took some time to tell ISVs and ecommerce website developers what kinds of online credit solutions will benefit their merchants the most. Take a look at the following article in DevPro Journal, which appeared on April 21.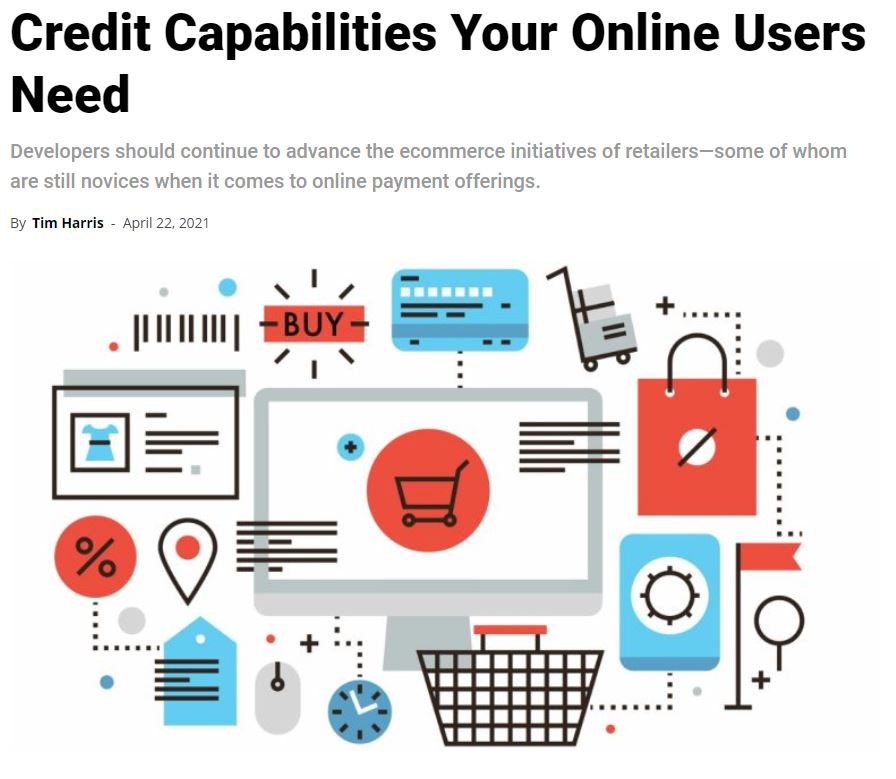 As the world transformed over the past year, so did the already volatile world of retail commerce, as more transactions were driven to the safe and socially distanced paradigm of ecommerce. Most retailers were compelled to shift focus to these capabilities, putting new emphasis on digital payment acceptance methods, if only to satisfy the "Buy Online/Pick Up In-Store" trend that escalated during pandemic conditions. Before the pandemic struck, the public had already utilized online purchasing, but the wave turned into a tsunami as a result of the pandemic.
Even as consumers venture back into the physical world, developers should continue to advance the ecommerce initiatives of these retailers—some of whom are still novices when it comes to online payment offerings. An effective ecommerce website, complete with versatile and robust digital payment solutions, will help merchants future-proof their brands by targeting a new generation of tech-savvy consumers, while ostensibly expanding their inventories to an "endless aisle" of online merchandise that outpaces the shelf space of the typical brick-and-mortar operation.
To differentiate merchants in a sea of competitors, online credit solutions should include characteristics that will deliver benefits to purchasers, build customer loyalty, and facilitate repeat business. Some of the most desirable credit solution capabilities for ecommerce sites include:
Buy Now Pay Later, or BNPL: This credit approach represents the digital re-boot of the layaway plans of old. A BNPL digital credit solution allows customers to purchase items instantly and pay off their balances over time, with merchants to be paid within a couple of days, through a credit account that is created on-the-spot. These offerings operate independently from the credit card networks and are accessible directly from the merchant's shopping cart, providing a convenient and streamlined alternative to credit cards.
Digital Revolving Credit: The current ecommerce market is rife with digital installment-based payment solutions, which typically break payments into four or five specific payments on a pre-set schedule. These plans tend to be less than flexible, and the account is closed once the buyer pays down the balance. A digital revolving account, in contrast, remains accessible to the consumer as long as they remain current on their payments. Consumers can reuse this credit line indefinitely at any ecommerce site in the network, which fosters repeat business for those merchants and can lead to lucrative, subscription-based purchases. Revolving credit accounts encourage long-term customer relationships.
Cross Marketing Opportunities: When companies become part of a community of merchants that offer the same digital credit option, the credit provider can choose to offer cross-marketing opportunities to its merchant base. This presents a novel opportunity for merchants to gain extra revenue from the relationship with their credit solution provider, leveraging the platform to cross-sell each other's wares. For example, a company that sells barbecue grills may be able to receive cross-market merchandise leads from a camping brand that offers coolers, or vice versa.
Catering to "Generation Z" with One-Click Credit: An effective digital credit solution can help future-proof the merchant's brand as the buying public continues to become more tech-savvy and "always-connected." According to Forbes magazine, Gen Z (consumers up to age 24) will make up approximately 31% of the population throughout 2021. The increasing prominence of this demographic indicates a shift toward consumers who are consistently engaged in online transactions. Digitally-inclined Gen Z's and Millennials have shown preferences for embedded, one-click methods as opposed to physical payment media. As many of these consumers shop online from mobile devices, they view the need to input credit card numbers, CVC codes, and expiration dates as an unnecessary hassle.
Easy Integration: The ability to implement a BNPL digital credit solution should not cause disruption or require weeks of integration. Developers should look to create "plug and play" payment solutions that can be rapidly implemented through an API key, streamlining deployment and minimizing interruptions of the merchant's site.
In this way, developers and ISVs can deliver value to ecommerce websites through digital payment solutions that not only facilitate transactions, but also build recurring revenues, generate brand loyalty, and appeal to sought-after demographics.