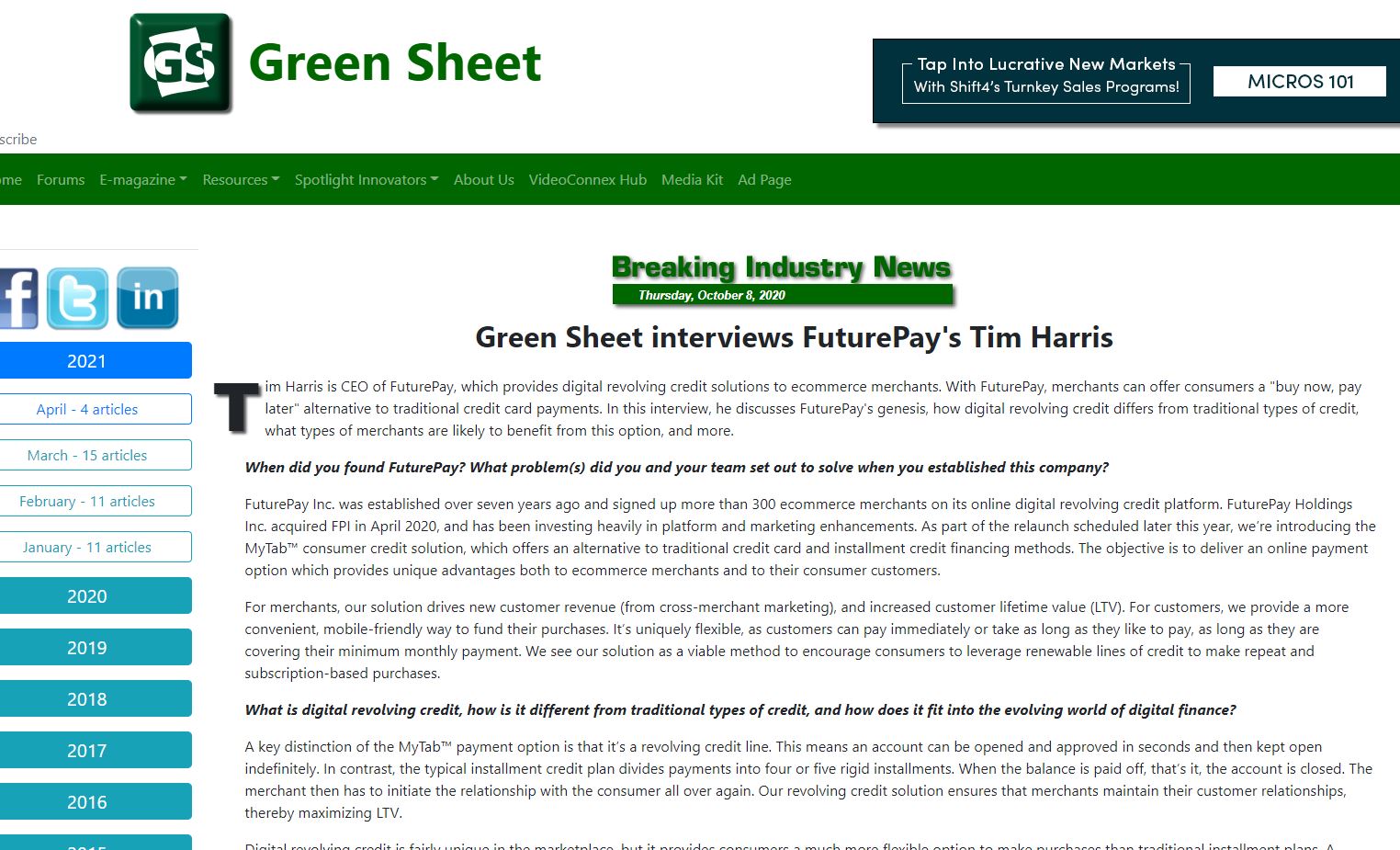 Green Sheet Interviews FuturePay's Tim Harris
As seen in Green Sheet magazine online, October 2020
Earlier this fall, Green Sheet's editor Laura McHale-Holland took some time to speak to FuturePay's chief executive Tim Harris about the company's founding and the advantages of digital revolving credit. Read their Q&A below.
Tim Harris is CEO of FuturePay, which provides digital revolving credit solutions to ecommerce merchants. With FuturePay, merchants can offer consumers a "buy now, pay later" alternative to traditional credit card payments. In this interview, he discusses FuturePay's genesis, how digital revolving credit differs from traditional types of credit, what types of merchants are likely to benefit from this option, and more.
When did you found FuturePay? What problem(s) did you and your team set out to solve when you established this company?
FuturePay Inc. was established over seven years ago and signed up more than 300 ecommerce merchants on its online digital revolving credit platform. FuturePay Holdings Inc. acquired FPI in April 2020, and has been investing heavily in platform and marketing enhancements. As part of the relaunch scheduled later this year, we're introducing the MyTab™️ consumer credit solution, which offers an alternative to traditional credit card and installment credit financing methods. The objective is to deliver an online payment option which provides unique advantages both to ecommerce merchants and to their consumer customers.
For merchants, our solution drives new customer revenue (from cross-merchant marketing), and increased customer lifetime value (LTV). For customers, we provide a more convenient, mobile-friendly way to fund their purchases. It's uniquely flexible, as customers can pay immediately or take as long as they like to pay, as long as they are covering their minimum monthly payment. We see our solution as a viable method to encourage consumers to leverage renewable lines of credit to make repeat and subscription-based purchases.
What is digital revolving credit, how is it different from traditional types of credit, and how does it fit into the evolving world of digital finance?
A key distinction of the MyTab™️ payment option is that it's a revolving credit line. This means an account can be opened and approved in seconds and then kept open indefinitely. In contrast, the typical installment credit plan divides payments into four or five rigid installments. When the balance is paid off, that's it, the account is closed. The merchant then has to initiate the relationship with the consumer all over again. Our revolving credit solution ensures that merchants maintain their customer relationships, thereby maximizing LTV.
Digital revolving credit is fairly unique in the marketplace, but it provides consumers a much more flexible option to make purchases than traditional installment plans. A MyTab™️ account can also be used on any ecommerce site that accepts FuturePay as a payment option.
What are the main advantages of the revolving credit option as opposed to installment-based solutions?
Installment-based credit solutions are more restrictive from a consumer perspective. Consumers must apply for a "one and done" line of credit before a purchase, then generally must adhere to a rigid payment schedule over a relatively short period of time. With MyTab™️, consumers can open a revolving account almost instantly, and can select a payment schedule that meets their needs. Because revolving credit can accommodate more flexible payment schedules, it encourages consumers to make purchases more confidently and more often. And importantly, the purchaser doesn't have to reapply for a new line of credit with each transaction as they do with an installment plan.
What particular types of merchants will be most interested in revolving digital credit, and how does this option foster repeat purchases and customer loyalty?
FuturePay is targeting mid-tier merchants with average annual revenues between $10 million and $500 million. Average order values have historically been in the $200 to $500 range. This price point lends itself to recurring purchase or monthly subscriptions better than large-ticket transactions.
Digital revolving credit appeals to a highly sought-after type of customer: the subscription-based buyer. Since consumers don't have to re-establish a credit line for each transaction, recurring purchases are made easier and more friction-free, increasing the likelihood that customers will revisit their favorite ecommerce sites. Digital revolving credit has a far greater tendency to build customer loyalty, which translates into sizable recurring revenue, increased LTV, lower customer acquisition cost and substantial profits.
What kinds of product categories does a revolving account best accommodate, as opposed to an installment plan? What products are best suited for an ongoing subscription purchase?
Consumers might purchase a hot tub or a boat through an installment plan and receive fixed monthly payments. These big-ticket items don't lend themselves to repeat purchases—they're generally a one-time sale. In comparison, an online retailer selling merchandise that is suited to repeat purchases, such as skin care products or pet supplies, can realistically expect customers to return on an ongoing basis to re-order merchandise and tap into that available credit line.
This is a far more desirable customer profile for merchants to pursue. In comparison, one-off purchases leave the consumer to move on to their next merchant relationship. This results in very high customer acquisition costs. Revolving digital credit is a key way to create a recurring customer base.
What differentiates FuturePay's MyTab™️?
Because FuturePay is a "closed loop" digital credit platform that operates outside of the credit card rails, its merchant fees are generally lower than solutions using the credit card network. The ability to offer a revolving Buy Now Pay Later payment solution also decreases shopping cart abandonment and increases order values. In addition, revolving credit fosters long-term relationships and LTV, since that consumer typically uses the credit line with the merchant for several years. Some FuturePay consumer customers have had their revolving accounts open for more than seven years.
Research also shows that flexible digital credit options appeal to Millennials, who are rejecting traditional credit cards as inconvenient and unnecessary. In fact, 63 percent of Millennials don't have a credit card at all. Yet this demographic will represent 46 percent of the income of the United States by 2025.
How steep is the learning curve for merchants wanting to implement MyTab™️? Is it easy to integrate with payment acceptance solutions already in place?
It is extremely easy. FuturePay has developed integrations with 15 popular ecommerce platforms such as Shopify, Magento, WooCommerce, and PrestaShop, covering an available market of two million online retailers. Integration can be as easy as entering an "API key" in the merchant's ecommerce platform, after which FuturePay is presented as a payment option in the shopping cart.
How can merchant service providers incorporate MyTab™️ into their suite of product and service offerings?
Merchants can take advantage of a new FuturePay Charter Merchant Program, where initial fees will be reduced for the first six months after launch. Once an ecommerce company applies for a FuturePay merchant account and is accepted, they can be up and running with a MyTab™️ payment icon on their shopping cart screen often within the same day.