FuturePay Holdings Inc. Chief Executive Officer Tim Harris did some commentary for Digital Transactions recently on how merchants need more than just another payment solution. They need a partner who can bring value to the relationship and knows how to promote repeat business to help justify customer acquisition costs. Read the below, or see the original article from 5/12/23 here.
Tim Harris May 12, 2023
COMMENTARY: Merchants Don't Need Another Payment Option. They Need a Partner
Online merchants today are faced with a difficult dilemma. They often operate with limited resources, which is especially true for independent retailers with smaller budgets. To expand their businesses, these merchants must carefully manage their financial and human resources, especially in the highly competitive world of e-commerce.
So, here's a surprising revelation from someone who works in the online consumer-financing industry: E-commerce merchants don't need another payment solution. Instead, they need a partner that brings a good deal of strategic value to the relationship.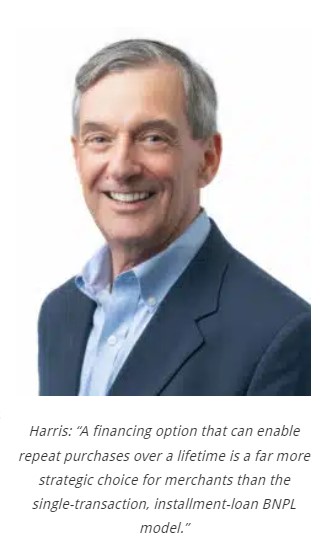 Providing a payment method to complete transactions is just not enough in today's environment. Instead, merchants are best served by a partner who can support their business goals, and whose objectives are aligned with theirs to build their business, encourage repeat sales, foster customer loyalty, and increase customer lifetime value (LTV). The ability to increase customer lifetime value is especially critical in today's market, where customer-acquisition costs (CAC) are rising at an alarming rate. According to research from e-commerce provider SimplicityDX, merchants lose up to $29 on average for every new customer they acquire, compared to a $9 loss per new customer acquired in 2013, representing a whopping 222% increase. In short, most merchants can't afford to rely on single-purchase customers if they want to survive.
Retaining existing customers and turning them into long-term frequent purchasers is key to lowering the proportion of CAC expenses. A financing partner with a platform that can foster lifetime relationships can be extremely valuable. A Digital Revolving Credit option can do just that. It can also provide significant advantages compared to traditional buy now, pay later installment-based loans, since it provides purchasers with a flexible and continuously available line of credit.
In contrast, Buy Now Pay Later (BNPL) options only provide a fixed-payment installment loan for a single transaction. After repayment of the loan, the account is closed and the customer relationship is terminated. A payment method that finances a single purchase is merely a tactical solution. It does little to increase customer lifetime value or deepen the relationship with the customer.
Innovative new solutions like Digital Revolving Credit are now on the market and are far better suited to help build LTV. Shoppers can pay down their balances with a flexible payment schedule, choosing a payment amount each month that satisfies their budgets. What's more, the customer applies just once and can reuse the credit line repeatedly to make additional purchases. This builds the LTV that merchants require and creates a trusted merchant-customer relationship that builds brand loyalty.
We've taken all these elements into consideration when developing our own solution and have helped our merchant partners achieve significant repeat sales. Based on historical data, our top-ten most active merchants have achieved an average 59% repeat shopper rate, and 4.4 repeat purchases per year.
A financing option that can enable repeat purchases over a lifetime is a far more strategic choice for merchants than the single-transaction, installment-loan BNPL model. Savvy e-commerce companies should consider a Digital Revolving Credit solution. It's an option that aligns with their long-term goals, drives repeat business, increases brand loyalty, and builds LTV.
— Tim Harris is chief executive officer at FuturePay Holdings Inc. (FuturePay)